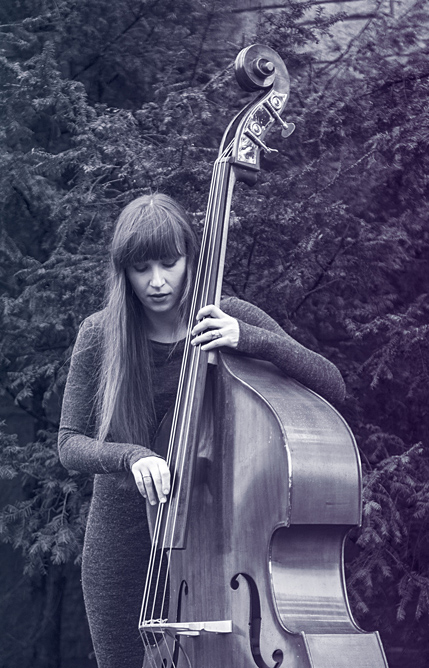 Ellen Andrea Wang – double bass, vocal and composer
Born and raised in Norway, Bassist and singer Ellen Andrea Wang has been a powerful force in Jazz and beyond, distinguishing herself as a truly inventive artist that blends styles in unprecedented ways. From collaboration with Sting, Manu Katché, and Marilyn Mazur, to performances at major Jazz Festivals, to her appearance with the vocal Jazz Group GURLS, to her own projects Pixel and the Ellen Andrea Wang Trio, Wang has consistently sought to tastefully blend Jazz and Pop in new ways. Her compositions and performance balance the the lyrical with the rough, the acoustic with the electric, resulting in a unique modern sound.
Ellen Andrea Wang's third studio album, Closeness, features Wang on double bass and vocals, with Rob Luft on guitar and Jon Fält on Drums. In what now seems prescient, the album is a an adventurous mix of traditional spirituals, soothing in their delivery, longing and personal compositions, and two carefully selected covers from Ornette Coleman (Lonely Woman) and Pat Metheny (This Is Not America). The connection between the musicians is quite evident as they approach each song with patience and absolute care for the art.
A commanding presence in any ensemble she plays in, her soft tone and vocal precision are always counterbalanced with heavy and assertive grooves from her double-bass, interlocking with drummers, jazz, pop and groove alike.
⁃ The Guardian
Ellen Andrea Wang will be Artist in Residence at Molde international Jazzfestival 2021
---
Ellen Andrea Wang – kontrabassists, vokalist og komponist
Er det noen som ettertrykkelig har bevist at man kan skrive hitter og fortsatt ha begge beina i jazzen, må det være bassist og vokalist Ellen Andrea Wang. Hun har en særegen sound som er både vital, fengende og melodiøs. Med et sjangerkryssende uttrykk har hun utmerket seg som en oppfinnsom kunstner som blander stiler på enestående måter. Fra samarbeid med Sting, Manu Katché og Marilyn Mazur, til opptreden med spellemannsvinnende gruppe GURLS, til egne prosjekter som Pixel og Ellen Andrea Wang Trio, dyrker Wang konsekvent smakfull jazz og pop på nye kreative måter.
Musikken hennes balanserer det lyriske med det grove-baserte, akustiske med det elektriske, noe som resulterer i en unik moderne sound.
På Ellen Andrea Wangs tredje studioalbum, Closeness, finner vi Wang på kontrabass og vokal, det britiske stjerneskuddet Rob Luft på gitar og den svenske merriterte Jon Fält på trommer.
Wang har på dette albumet latt seg inspirere av den amerikanske bassisten Charlie Haden og skrevet ny musikk med utgangspunkt i estetikken og filosofien til Haden.
Albumet består av eventyrlige personlige komposisjoner, tradisjonelle spirituals i nye arrangementer, i tillegg til to nøye utvalgte cover fra Ornette Coleman (Lonely Woman) og Pat Metheny (This Is Not America). Samspillet mellom musikerne er noe helt eget der de tilnærmer seg hver låt med tålmodighet og med en omsorg for kunsten.
Wang sier: «Jeg har et ønske om å finne fram til det enkle i musikken, slik Haden gjorde. Roen i basspillet, og la tonene få synge. Det har vært godt å skrive musikk som får lov til å hvile litt fordi livet som musiker kan være heseblesende. Her er det musikk som puster. «
Ellen Andrea Wang er Artist in Residence på Molde internasjonale Jazzfestival 2021.